Sunday, 17th September
Wollcon Jazz Festival 2023
11am-5pm, Wollongong Conservatorium of Music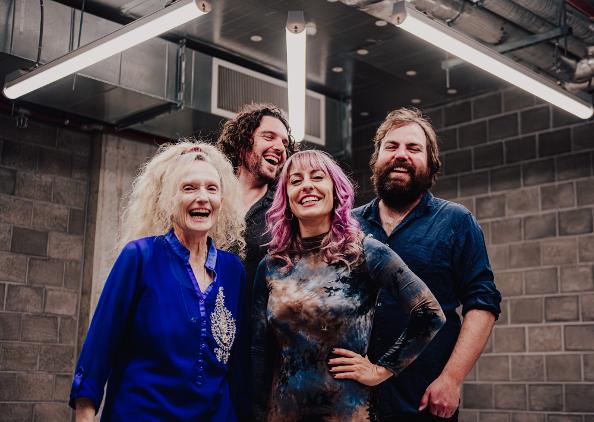 The Wollongong Conservatorium of Music is excited to present the inaugural WollCon Jazz Festival on Sunday September 17th. The festival will feature some of the biggest names in Australian Jazz including legendary saxophonist Sandy Evans (OAM), James Greening (The Catholics, Mara), Tamara Murphy (Melb), Freyja Garbett, Chris Fields and many more!
This exciting new Festival will also highlight the next generation of jazz stars with performances from the prestigious Sydney Conservatorium Jazz Orchestra, Jazz Workshop Australia and local student groups from Wollongong High School of the Performing Arts, Smith Hill High School and all ensembles from the award winning WollCon Jazz Program.
11am-4pm - WollCon Student Jazz Ensembles and School Jazz Bands (various times)
12pm - Sydney Conservatorium Jazz Orchestra, Dave Theak director (one show only)
12:45pm and 1:45pm - Chris Fields Afro Indian Jazz Collective
1:15 - Sydney Conservatorium Jazz Combo (one show only)
1:30pm and 2:30pm - Tamara Murphy Spirograph Studies
4pm - Freyja Garbett Music From The Waves ft. Sandy Evans (one show only)
Saturday 26th August
Underwards
8pm - The Music Lounge
Ellen Kirkwood – trumpet; Hilary Geddes – guitar; Nick Henderson – bass/synths; Alex Inman-Hislop – drums
The full moon through trees and mist. Towering majestic cliffs above a quiet rural valley. A calm river winding through a rocky landscape. A swim in a tidal ocean pool. A muddy swamp, teeming with life. The effects that being in nature has upon our senses and our minds, and the stories and memories that places hold. This is what Underwards makes music about.
Led by award-winning trumpeter and composer Ellen Kirkwood, Underwards features some of Sydney's most exciting, versatile and creative musicians. Their music, like nature, combines beauty, mystery, colour and rhythm, but also leans in to the ways humans experience nature; sometimes with joy or calm, other times melancholy or bewilderment, even awe.
This performance will be part of Underwards' launch tour for Delve; their characterful and eclectic debut album. Delve boasts ten original, contrasting and evocative tracks, in which Kirkwood and her talented band mates show off their abundance of musical versatility, wit and expressivity.
$30G/$25C/$15S
Tickets click HERE
Sunday 25th June 2-5pm

Hammerhead Album Launch
As part of Jazz Showcase
Wollongong Conservatorium of Music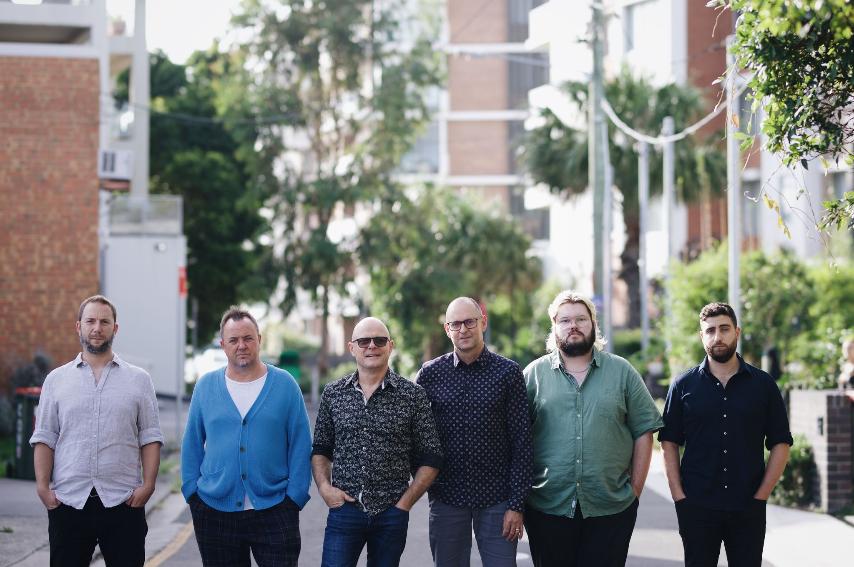 Powerhouse sextet Hammerhead burst onto the Sydney scene in 2010, playing from a catalogue of music largely inspired by the late 50s and early 60s 'Hard Bop' movement. Formed by internationally acclaimed tenor saxophonist Jason Bruer, Andrew Robertson (alto sax and flute), Simon Ferenci (trumpet), Greg Coffin (piano), Alex Hirlian (drums) and David Quinn (bass) make up the sextet.

Their debut album 'Mozaic' (2014) was a genuflection to the movers and shakers of the hard bop movement and received widespread acclaim in Australia & Japan. Since that first release, Hammerhead's music has morphed into a set of all original compositions from the pen of band leader Bruer, showcasing his eclectic influences including hard edged Urban Jazz, Hard Bop, Funk and Chamber Jazz illustrating a considerable contemporary shift in approach & style.
This performance will celebrate the release of their new album 'More Questions Than Answers' as part of a National tour. It contains 10 new original compositions from bandleader Jason Bruer. The music was written during the pandemic and resultant lockdowns and is Bruer's artistic response to his first-hand experiences as a sufferer of long Covid and a subsequent heart attack brought on by the virus.
The band will be special guests at the end of term jazz showcase...so come for the afternoon and catch some of the up and coming talented jazz musicians of the future!
Tickets HERE
Thursday 18th May 6-9pm

Lyre Byrdland
UOW UniBar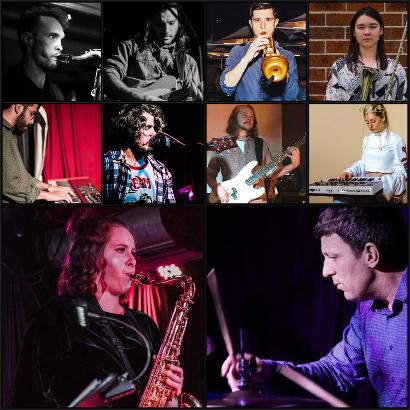 William Endicott -trumpet; David Reglar - tenor sax; Kali Gillen - bari sax/flute; Cailey Mei-Soon - trombone; Cameron Henderson - guitar; Freyja Garbett - keys; Tim Sampson - bass; Alex Masso - drums; Sean Valenzuela - percussion
The Sydney based, 10-piece instrumental groove machine know as Lyre Byrdland has established itself as a powerhouse of party music since its inception in 2014. Born from a late night of banter and booze in a hip Melbourne bar, within a few years the group has become a heavyweight on the Sydney music scene with an ever-growing fan base of fellow groovers who love to get down.

With a four-piece horn line-up featuring some of Sydney's grooviest masters of brass and a powerful rhythm section,

Lyre Byrdland

has honed their distinctly modern sound with the aim of getting people onto the dancefloor. Drawing inspiration from the greats of the genre such as

Fela Kuti

and

The Daktaris

as well contemporary powerhouses

Daft Punk

and

Snarky Puppy

,

Lyre Byrdland's

sound is both reassuringly familiar but strikingly fresh.



The band recorded their debut full length album
Hotfoot
in 2016
and last year released their new single Low Life.
$30G/$25C/$15S
Ticket HERE
Saturday 6th May 5:30-8:30pm

Lift-Off Sextet feat. Russ Spiegel (USA)
Five Barrel Brewery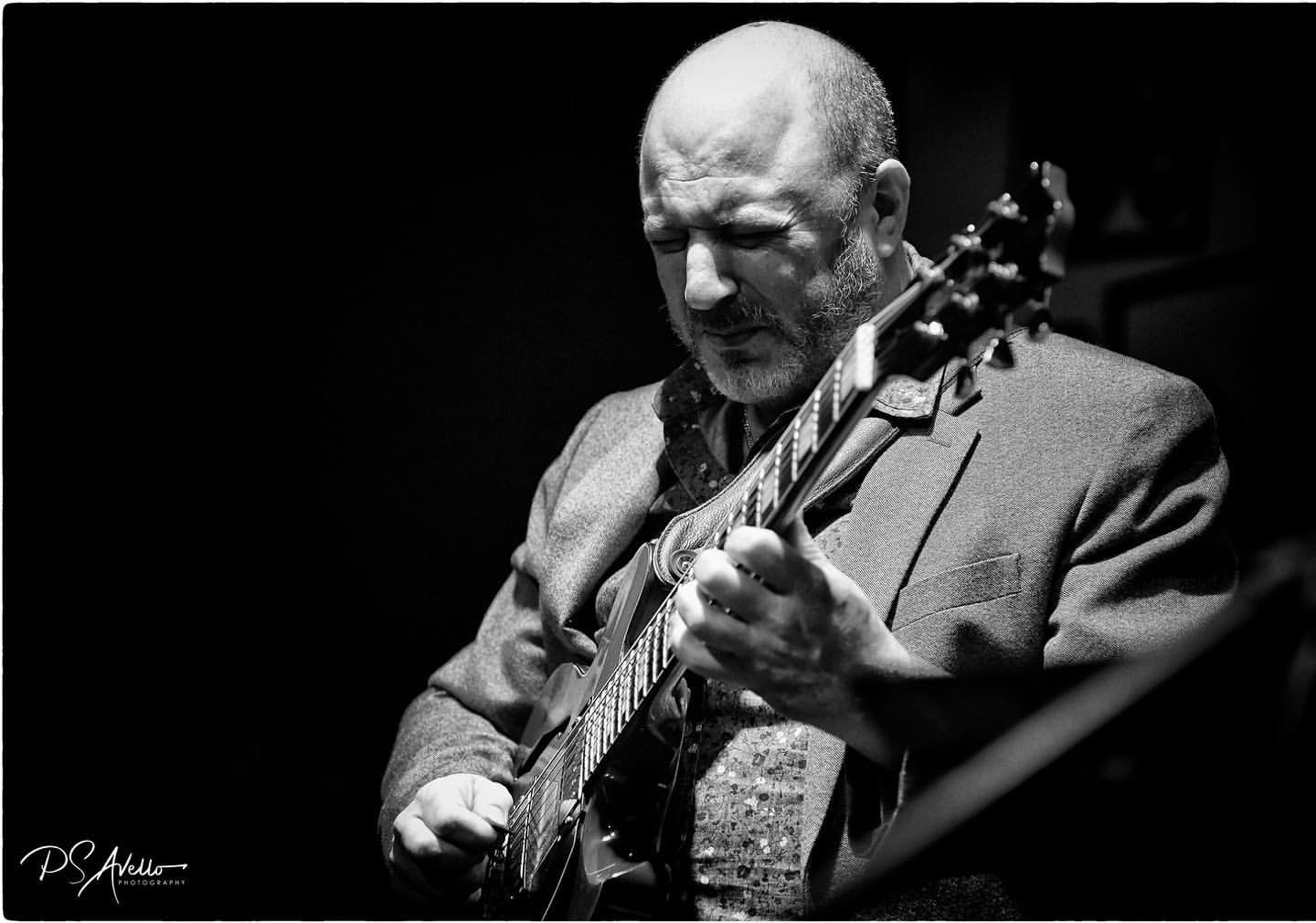 "Lift-Off" is a hard-swinging, bop-laden landscape on which this band of monster musicians can flex their chops. With a line-up that includes Bernice Tesara (trumpet), David Reglar (saxophone), Nich Polovineo (trombone), Lauren White (bass), and Ryu Kodama (drums), the ensemble's music is characterised by complex harmonies, intricate arrangements, and inventive improvisations that showcase each musician's unique talents. Audiences will enjoy original takes on classic jazz standards and re-worked arrangements of iconic jazz compositions from the likes of Miles Davis, Tadd Dameron and Marty Paich. For this performance, special guest guitarist Russ Spiegel (USA) will join the band.
Russ Spiegel
is a multi-talented musician, composer, arranger, and producer. He has a Bachelor's Degree in Philosophy from the University of Michigan, studied Composition, Arranging and Guitar Performance at the Berklee College of Music, and has a Masters Degree in Jazz Performance from the City College of New York. He is currently planning to start his Doctorate in Jazz Performance. Originally from Santa Monica, he spent close to twenty years in Germany before returning to the US in 2001 and settling in New York City. Russ has released several CDs, written music for film, TV and musicals, toured Europe and Asia, taught college-level courses, run workshops and seminars, worked as a music copyist for Broadway shows and major-label recordings.
FREE Event
Sunday 21st May 4-6pm

Sangeet Mishra
Wollongong Conservatorium of Music
Born into the legendary Mishra family who are of the renowned Banaras Gharana (school of music), North India. Sangeet Mishra is an 8th generation sarangi player. Living the culture of North Indian classical music from birth it is not surprising he is doing what he does best, playing the Sarangi full time. Sangeet plays with a great depth of cultural understanding and knowledge that rises above gymnastics, he plays with soul straight from the heart. Rooted firmly in the ancient traditions and techniques of shastriya sangeet (classical music) Sangeet has created a distinctive individuality to his playing. Through his innovations as a musician he has succeeded in blending contemporary musical thought in playing the sarangi without compromising on its traditional purity and essence. A versatile performer, he is known for his solo recital, accompaniment playing and successfully collaborating with musicians from different genres across countries together, creating a unique musical language.
Presently based in Mumbai, Sangeet maintains a busy schedule, traveling interstate in India and globally. He is a sought after musician for solo recitals, accompaniment for traditional vocal and dance, contemporary Indian music, as well as within the global world of fusion music. Don't miss this intimate concert featuring a truly world-class musician, accompanied by WollCon staff member and accomplished percussionist, Chris Fields
$30G/$25C/$15S
Tickets HERE
Tuesday 9th May 7-9pm

Lisa Oduor-Noah (KEN) & Aron Ottignon
Wollongong Conservatorium of Music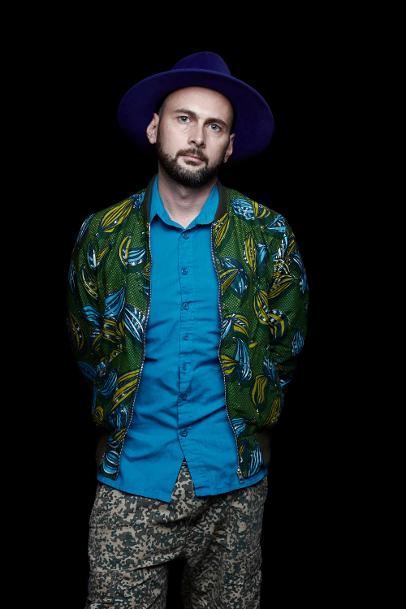 Kenyan singer-songwriter and producer Lisa Oduor-Noah was introduced to music through her family's love for different musical genres, which fed into her a deep love for music and passion for performance. The soulful, silky-voiced singer boasts a resume filled with partnerships with famous local acts such as Blinky Bill, Kato Change, June Gachui, and Sauti Sol, as well as performances on stages such as Coke Studio Africa, The Global Citizen, and the Shanghai Jazz festival, to name a few.
A Berklee College of Music graduate, Oduor-Noah hopes that through her performances, she can be an agent of hope, healing, and restoration while creating wholehearted moments of connection. In addition to this, she desires to bring higher quality music education to Africa as an educator in forums like Afreative and perFORM Music Incubator, and be an aide to better emotional and mental health awareness in the entertainment industry through platforms like Engage Talks.
This rare, intimate duo concert will also feature prolific New Zealand pianist Aron Ottignon
$30G/$25C/$15S
Tickets HERE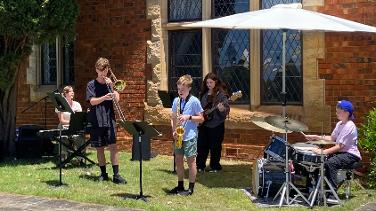 Wollongong Conservatorium will present the popular Jazz Showcase on the beautiful grounds of Glennifer Brae. 12 different student jazz ensembles ranging in age from 11 on up to adult. This free event is your chance to see the next generation of jazz artists as well as some of the young cats who are already swinging. Plus…the day will feature special guests: Chris Fields on percussion, Kim Lawson on sax, and Claire Hollander on trumpet.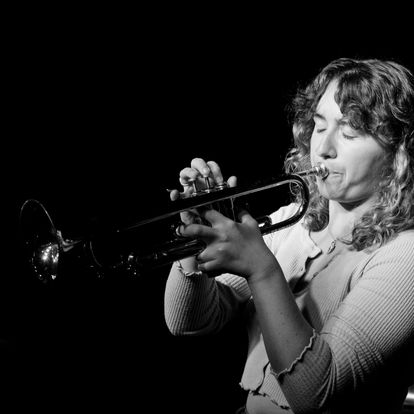 Sunday 2 April from 2-5pm you'll want to get down to Five Barrel Brewery for their regular First-Sunday-of The-Month Jazz Session. Trumpeter Sarah Purdon, formerly of Wollongong but now making a name for herself will lead her Sydney Jazz Collective featuring some of the young lions on the Australian Jazz Scene for an afternoon of swinging bebop and cool jazz. Purdon was a star soloist in the WollCon Jazz Program for many years and now is a regular at various jazz hot spots incuding the Swinging Cat, Monday Night Connections, and Butchers Brew. She's also been a feature member of The South Coast Big Band and the Sydney Conservatorium Jazz Orchestra. Her band includes Harley Coleman on Guitar, Sabine Tapia on bass, Alex Grace on trombone, and Jack Rosenzweig on drums. This is a free – all ages venue.
Thursday, March 9th
Jo Lawry Album Launch feat. Linda May Oh and Ben Vanderwal (USA/AUS)
7pm - WollCon Auditorium
The WollCon Jazz Series launches with an exclusive premier featuring international trio – including 2023 Grammy Award Winner Linda May Han Oh.
The Wollongong Conservatorium of Music will host an exclusive NSW performance of vocalist Jo Lawry's new album "Acrobats" to open this year's annual Jazz Series. Lawry recently returned to Australia after several years abroad where she performed and recorded with Sting as well as working with the likes of Peter Gabriel and Paul Simon. Her recordings have received rave reviews including a 4.5 out of 5-star review in Downbeat Magazine for her debut album "I Want to Be Happy." "Acrobats", which will be officially released the day after her performance in Wollongong, is a playful album that embodies both the freedom and exquisite complexity of jazz. Lawry explores how to use her voice to function as a horn player with only a bass and drums without the benefit chords.
Award-winning bassist Linda May Han Oh, who is a collaborator on the album will join Lawry for this exclusive performance in Wollongong. Malaysian born Oh was raised in Western Australia before moving to New York where she's now a successful band leader. Linda was announced as the winner of the 2023 Grammy Award for Best Jazz Instrumental album with Terri Lyne Carrington, Kris Davis, Nicholas Payton, and Matthew Stevens. She is also the bassist, playing the character "Miho" for the Pixar animated Soul, where her movements playing her instrument were captured and translated to the animated character.
Drummer Ben Vanderwal, is one of the most in-demand jazz drummers in Australia, and has previously toured with the Tim Minchin vs Orchestra production.
$37 General/$32 Concession/$27 Student
Click HERE to purchase tickets
Friday, March 17th
The Three Seas
7pm - WollCon Auditorium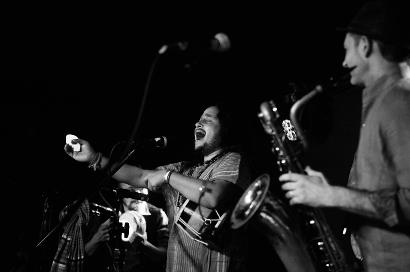 Raju Das Baul – Vocals, Khamak; Deo Ashis Mothey – Vocals, Esraj, Dotora, Guitar, Murchunga; Matt Keegan – Baritone, Clarinet, Ewi; Brendan Clark – Bass Guitar, Effects; Gaurab Chatterjee – Drums, Dubki
WollCon Jazz series presents this international, cross-cultural ensemble fusing West Bengal and Himalayan folk song with contemporary sounds from Sydney and Kolkata.
Soaring Baul vocals and majestic sounds from North Indian traditions are combined with Bengali beats, and the deep groove of the baritone saxophone in an energetic, uplifting … "Bermuda Triangle of electro-dub, funk and Hindustani music" – Songlines magazine, 2022.
Drawn together by their distinct and diverse backgrounds, and their passion for creating music that resonates universally, be transported into the supernatural world of The Three Seas.
General $30/Concession $25/Student $15
Click HERE to purchase tickets
Saturday 25 Nov 7pm WollCon Auditorium
Trish Delaney-Brown Quintet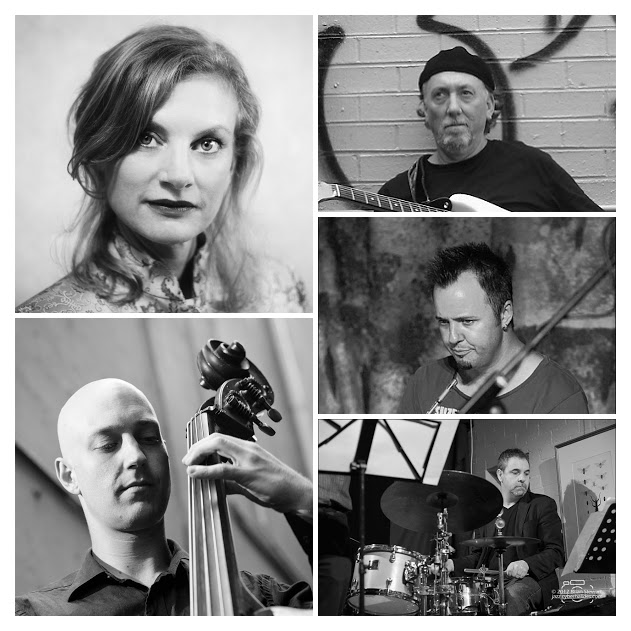 Trish Delaney-Brown - voice; Jeremy Sawkins - guitar; Greg Coffin - piano; Karl Dunnicliff - bass; Nic Cecile - drums
Award winning singer-songwriter Trish Delaney-Brown is that rare blend of craft and art. A vocal technician whose precision and control remain servant to the master of the song. Whether delivering her own compositions or unique renderings of jazz standards, Trish finds the song's heart and communicates its message with clarity, purity, purpose, and joy.
A 'musicians singer', Trish has tackled everything from music theatre, opera and cabaret to jazz ensembles, big bands and a cappella - but jazz is her home. There, in her own arrangements and compositions, her unique and uplifting presence and voice find their highest expression.
Trish's decades of performance experience and commitment to ongoing study and authentic connection transfer into her teaching, making Trish a highly respected and sought after Voice Coach and Estill Certified Master Trainer.
Thursday 1 December 7pm - UOW UniBar
Jiem and Thibaud Kessell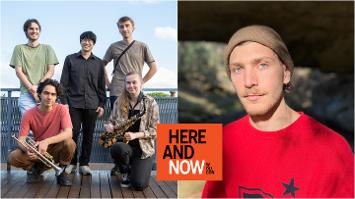 7pm - Thibaud Kessell
Thibaud Kessell is a pianist and composer with an eclectic interest in art-making. Kessell has collaborated with Archibald Finalist Amber Boardman and his compositions were featured in June Lee's film Parallanes, a finalist at Tropfest. He has produced/mixed/mastered for artists such as Sagrada Familiar, Jacques Emery, ilex, and Delay45. His other projects include The Footman, Stieble Eltron, Stimulatron archives, Steven Oildrum, Limbless and FOLK.
His most recent audiovisual collaboration with Juune Lee has been selected for St Kilda Film Festival 2021, Lift off Global network (Syd/Melb), Canberra short film festival and more.
Isabella Morison – Voice/Violin; Miranda Ilchef – Violin; Lily Innis – Cello; Thomas Avgenicos – Trumpet; Jack Stoneham – Alto Saxophone; Thibaud Kessell – Piano; Dave Quin – Double Bass; Ashley Stoneham – Drums
9pm - Jiem
Jiem is a contemporary jazz group that traverses gracefully between soft playfulness and brash intensity. Emerging out of Sydney's jazz scene, close collaborators Tessie Overmyer (saxophone), Miles Rooney (trumpet), Ryu Kodama (drums), Harry Birch (bass), and Matt Harris (Piano) mark an exciting new chapter in Australian Jazz.
Their approach is varied and inventive, reminiscent of musical authorities such as Phil Slater, Simon Barker, Andrea Keller, and Jonathan Zwartz. The unique personalities and stylistic qualities of each member interact to form a synergetic ensemble sound that is far greater than the sum of its parts.
Tessie Overmyer – saxophone; Miles Rooney – trumpet; Matt Harris – piano; Harry Birch – bass; Ryu Kodama – drums
Thursday 17 Nov - 7pm - UOW UniBar
Rogues and Jetrio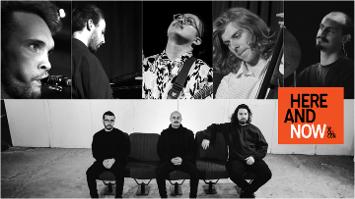 7pm Jetrio are a neo-instrumental band with a unique sensitivity to ambience. The atmospheres they create evoke and juxtapose folkloric melodies alongside bouts of undulating rhythms. Their recording debut, jetrio: I is available now on Bandcamp.
Sean Valenzuela – piano; Blain Cunneen – guitar; Alexander Inman-Hislop – drums
9pm - Rogues
Rogues draws on many influences from the worlds of jazz and folk with hints of country and indie rock. Think The Bad Plus meets Bon Iver or Thom Yorke fused with The Matt Keegan Trio – the exciting interplay of modern jazz with the sensitivity and melodicism of popular music.
Lead by David Reglar, who's credits include playing and recording with pop giants Lime Cordiale and Jerome Farah to Australian world music icons The Strides, the group features Freedman Fellowship winner Novak Manojlovic on keys, National Jazz Award Finalist Alex Inman-Hislop on drums as well as two of the most sort after musicians on the Sydney scene in Yutaro Okuda (guitar) and Nick Henderson (bass). Rogues will release their anticipated debut EP entitled "Rubber Man" in October 2022.
David Reglar – saxophone; Yutaro Okuda – guitar; Novak Manojlovic – keys; Nick Henderson – bass; Alex Inman-Hislop – bass
Thursday 3 November 7pm - UOW UniBar
Freyja Garbett and Godriguez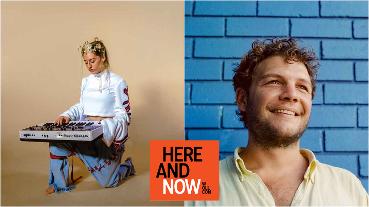 7pm - Godriguez
Widely regarded as one of the country's best hip hop producers,
Godriguez
, the Alter-ego of guitarist Dave Rodriguez, has played with some of the biggest names in jazz and hip hop. Most well know for his work with Sampa The Great, Godriguez's glitchy, off-kilter beats and eclectic soundscapes earned him support slots for Hip-Hop icon Kendrick Lamar and Neo-Soul darlings Hiatus Kaiyote to name a few.
In October 2017, He released the debut LP for his live band project GODTET which LNWY magazine hailed as "…one of the most important contemporary jazz releases to come out of Australia in a long time."
9pm - Freyja Garbett Trio
Freyja Garbett's compositions are a spectacular, immersive waltz through rich jazz laden soundscapes. A graduate of Boston's prestigious Berklee College of Music, Freyja has refined an electro-acoustic approach to jazz composition and improvisation. J
Garbett is currently performing and working as a session musician, composer and producer on piano and synthesisers with a range of artists including but not limited to Matt Keegan, Matthew Ottignon (Mr Ott), Touch Sensitive, Miiesha, Elizabeth Manfredi, Alphamama, Liyah Knight and Stella Donnell.
In 2017 she was commissioned by SIMA and APRA AMCOS to compose an extended work for a ten-piece jazz ensemble which resulted in 'Bulga'; a multi-movement suite which heavily utilizes synthesisers, FX and a range of studio techniques to manipulate the band's recorded improvisations. Garbett's debut album 'Maya' was released on Art as Catharsis Records in November 2019 featured an all-star septet.
Freyja Garbett – piano; Maximilian Alduca – bass; Tully Ryan – drums
Wednesday 9 November - UOW UniBar
Lucy Clifford Quartet
6pm Openning Band - WollCon Latin Jazz
7pm Lucy Clifford Quartet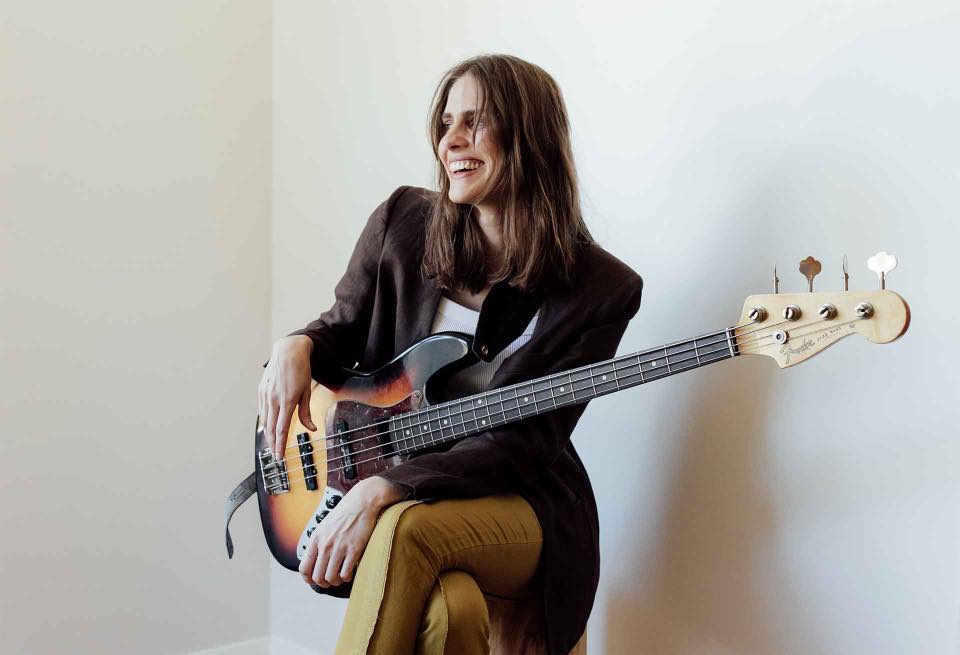 Bassist Lucy Clifford brings her quintet to the Wollongong Unibar as part of the WollCon Jazz Series on November 9th. Joined by her musical companions Tom Avgenicos (trumpet, 2022 Freedman Jazz Award Winner), and Wollongong Con faculty David Reglar (tenor saxophone), Freyja Garbett (keys), and Alex Masso (drums), Lucy presents a set of her original music, giving listeners a glimpse into what's in store for her upcoming 2023 debut album release. As a bassist who has dedicated many years to accompanying artists of different kinds and fostering spaces for dialogue, Lucy's original music places that same value and care in encouraging space for exploration, via way of raw grooves, lyrical arrangements and igniting spirit. Although rooted in Jazz expression, this band explores beyond the fringes of genre, building symbiotic rhythms and pulses that interlock with all things motion, stillness and freedom in between.
A graduate of Berklee College Of Music, Lucy has worked as a performing and recording musician across Australia and the USA for the last 10 years. As an active and invested member of the Australian music community, Lucy joined Australian music icon Kate Ceberano's band in 2022, and has recently worked alongside artists Urthboy and Emily Wurramara among others. Internationally, she has performed, toured and recorded with the likes of many Grammy Winning Artists and notable ensembles, some of which include Nella, Mariza, Javier Limon, Maher Beauroy and Mighty Mystic among others.
28 October - Melissa Aldana Quartet (CHL/USA)
Wollongong Conservatorium of Music - Auditorium
2 Shows: 7pm and 8:30pm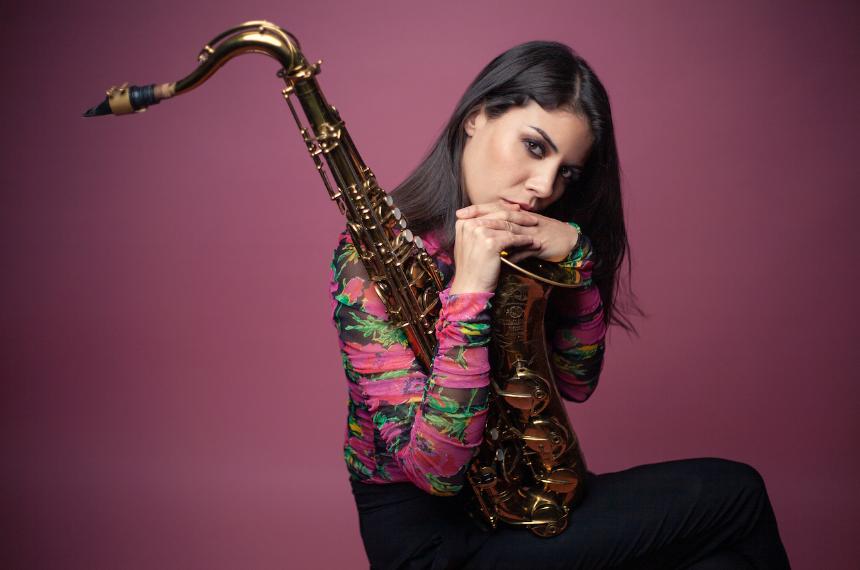 Melissa Aldana – saxophone; Pablo Menares – bass; Kush Abadey – drums; Lage Lund - guitar
Born in Santiago, Chile, and growing up in a musical family, Award-winning saxophonist Melissa Aldana has garnered international recognition for her visionary work as a bandleader, as well as her deeply meditative interpretation of language and vocabulary. She performed in Santiago jazz clubs in her early teens and was invited by pianist Danilo Pérez to play at the 2005 Panama Jazz Festival. At 24, she became the first female instrumentalist and the first South American musician to win the prestigious Thelonious Monk International Jazz Saxophone Competition. In 2019, Aldana release her celebrated album Visions (Motéma), which earned her a GRAMMY nomination and led to NPR Music naming the release among the best albums of the year.
For this intimate performance at the Wollongong Conservatorium of Music Auditorium, Aldana's all star quartet will play music from the saxophonists new album, 12 Stars, which grapples with concepts of childrearing, familial forgiveness, acceptance, and self-love. Inspired by the arcs and nuances of tarot, 12 Stars features a series of tributes to moments of challenge and triumph in Aldana's New York life.
$35 General One Show/$65 Two Shows
$30 Student/Concession Per Show
Click HERE for tickets
Thursday 20 October 7pm - UOW UniBar
Turismo and Delay 45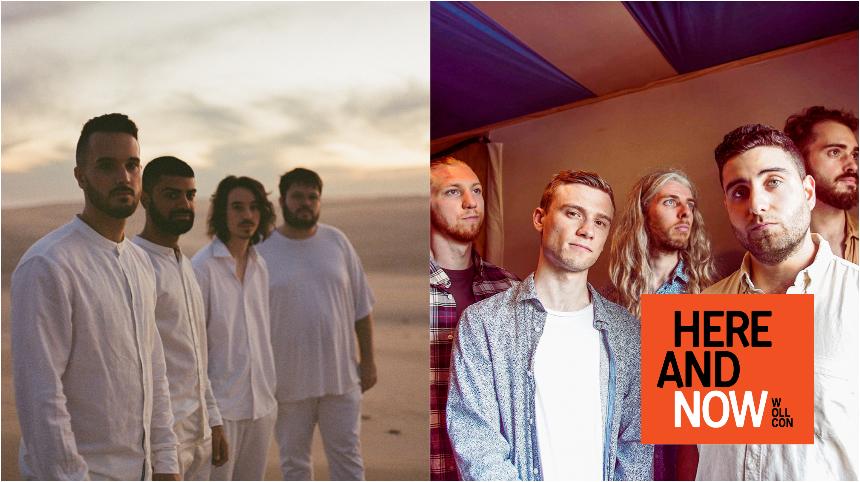 7:30pm – Turismo
Tourismo is a distinctive modern jazz outfit co-led by recent National Jazz Award winners, pianist Matthew Thomson and drummer Alex Hirlian. All five members hail from Sydney's prestigious Sydney Conservatorium of Music and are accomplished musicians in their own right.
The band draws heavily from artists such as Ben Wendel, Gerald Clayton, Robert Glasper and Kendrick Scott. Their cutting-edge compositions are rhythmically and harmonically driven, incorporating profound and memorable melodies, fused within complex odd-time signatures. Tourismo plans to record their first album through ABC Jazz in late 2022.
Michael Avgenicos – Tenor Sax; Josh Meader – Guitar; Matthew Thomson – Piano; Nick Henderson – Bass; Alex Hirlian – Drums
9pm – Delay 45
"A bold new chapter in Australian jazz." – Sydney Morning Herald
Delay 45 is a jazz and improvisation quartet with a penchant for bold, expressive works. Their fluid approach between composition and improvisation places musical conversation and connection at the centrepiece of performance.
Led by 2022 Freedman Fellowship winning trumpeter/composer Tom Avgenicos and featuring close collaborators Roshan Kumarage (piano), Dave Quinn (bass) and Ashley Stoneham (drums), they have built a reputation as one of the most outstanding ensembles to emerge in recent years. They have toured internationally and nationally and have performed at Australia's most prestigious concert venues including The Sydney Opera House, Melbourne Recital Centre and Museum of Old and New Art (MONA).
They have released two critically acclaimed albums, with their latest release "Flux" cited as "a giant step forward" – (Rhythms Magazine). They have also ventured in multidisciplinary practice with a short film release "Flux: Short Film".
Tom Avgenicos – Trumpet; Roshan Kumarage – Piano; Dave Quinn – Bass; Ashley Stoneham - Drums
October 14th - Mara!
8pm - The Music Lounge, Wollongong Town Hall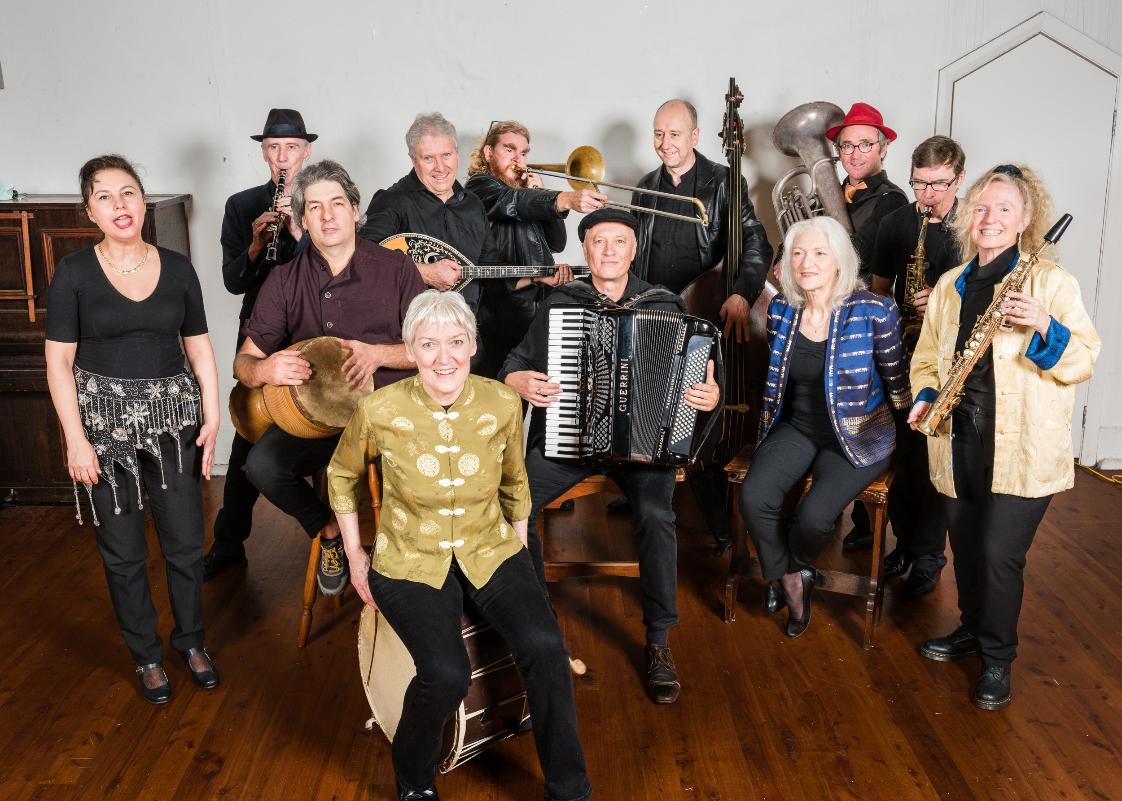 Mara Kiek - voice and percusssion; Silvia Entcheva - voice (soprano); Jarnie Birmingham - voice (alto); Llew Kiek - bouzouki, bağlama, acoustic and electric guitars; Sandy Evans - saxophones; Paul Cutlan - clarinets and saxophones; Andrew Robson - saxophones; Sam Golding - trumpet, sousaphone; James Greening - pocket trumpet, trombone; Gary Daley - piano accordion; Lloyd Swanton - double bass; Tunji Beier - drums and percussion
A kaleidoscope of musical colours between gypsy brass and jazz big band.

The Mara! Big Band is a 12-piece ensemble that straddles the Eastern European gypsy brass band and jazz big band traditions. It is a kaleidoscope of musical colours including brass, piano accordion, percussion and voice. The new work is called Zashto? meaning "Why?" in Bulgarian. Exploring the experience of migration to Australia through music and featuring poetry by migrants and refugees. Sharing stories of displacement, hope, longing, despair and resignation in their journey towards a new life in Australia. The Mara! Big Band features some of the greatest names in Australian jazz and world music. The Mara! Big Band Project is supported by Create NSW, The Australia Council For the Arts, The Australian Govt. Regional Arts Trust & Flying Arts Alliance.

$40 Premium/$35 Standard/$20 Student
Click HERE to Purchase Tickets

7 October - Pheeroan akLaff (USA)
7pm Wollongong Conservatorium of Music- Auditorium
7pm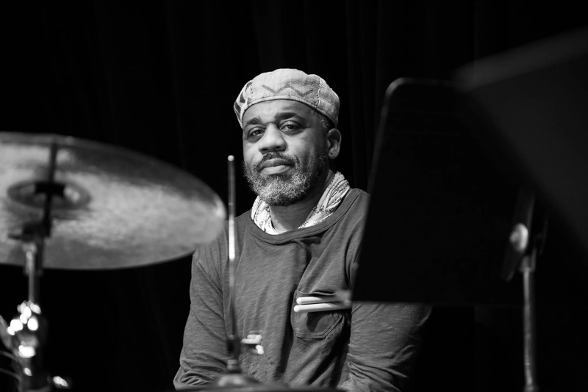 Peter Farrar – saxophone; Mike Nock – piano; Cameron Undy – bass; Pheeroan akLaff - drums

American jazz/avant-garde drummer and percussionist, Pheeroan akLaff has appeared with some of the more adventurous musicians in jazz of the past 20 years. He has performed and recorded the world over with some of the most prominent musicians on the free jazz scene including trumpeter Wadada Leo Smith's New Dalta Ahkri, a longtime association with altoist Oliver Lake (including work with the reggae group Jump Up), Henry Threadgill's Sextet, Mal Waldron and Cecil Taylor to name a few. In 2006 he co-founded Seed Artists in Brooklyn and in 2009, he reestablished his creative partnership with Leo Smith after thirty years, resulting in a nomination for the Pulitzer Prize for Music in 2013.
For this rare performance, akLaff will be joined by a stellar band featuring the living legends Mike Nock on piano and Cameron Undy on bass plus firebrand saxophonist Peter Farrar.
$30 General/$25 Concession/$20 Student
Tickets available now:
https://wollcon.com.au/event/pheeroan-aklaff/

Friday, September 23rd:Tessie Overmyer Quartet / Saturday, September 24th: Hannah James Trio / Sunday, September 25th:Chris Field Cubop Quartet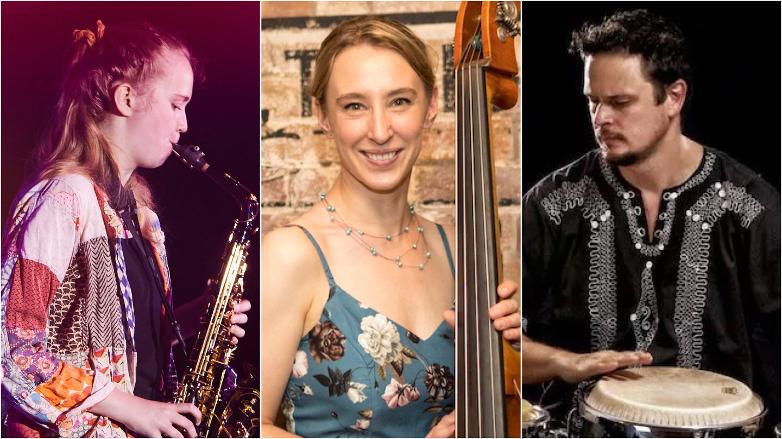 The Jazz Showcase is back! After a 2-year hiatus, once again we will be featuring all the students from the WollCon jazz program under the direction of Eric Dunan and guest
faculty members Freyja Garbett (piano) and Callum Burns (guitar). Plus, special guests artists Tye Langford (SCBB) and Alec Watts (ANJO Youth Big Band) will be
joining the students for a fun afternoon of great music. Live at the Wollongong Conservatorium of Music campus from 2-4pm.
FREE EVENT
June 16th - Matt McMahon Meets The South Coast Big Band
8pm - Main Auditorium, Wollongong Town Hall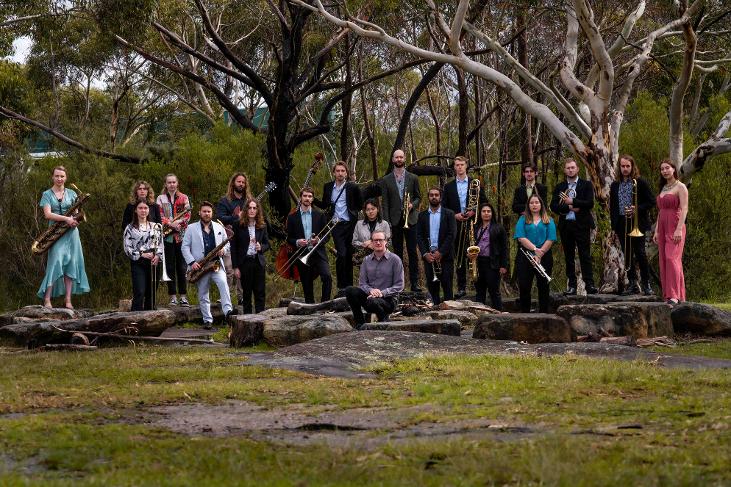 "A new collaboration full of energy!"
Featuring the incredible jazz pianist Matt McMahon, the 19-piece South Coast Big Band will bring a powerhouse of energy to his specially orchestrated compositions. An
all-star line-up of soloists — along with originals and arrangements by Des Cannings, Deven Rahan, and Kyle Eardley — will have you on the edge of your seat for the
entirety of the performance.
Matt McMahon is one of Australia's leading jazz pianists and composers.
z.
$40 Premium/$35 Standard/$20 Student
Laneways Live
Sunday Jazz 29 May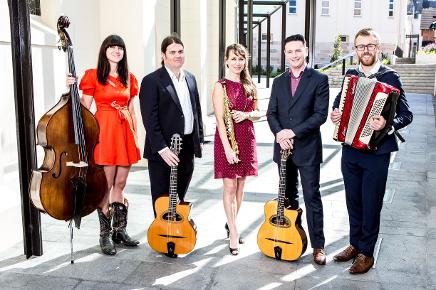 Spyglass - 11:30 and 12:30
Lo Lo Lavina Caravan Stage
(Outside Upper Mall Area Near Athletes Foot Shoe Store)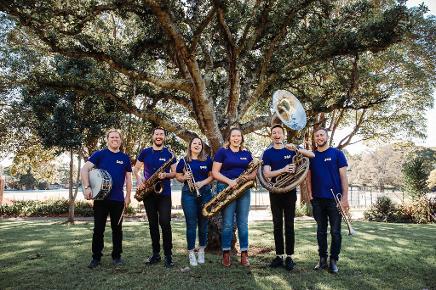 343 Brass Band - Lo Lo Lavina Stage 2pm and 3pm
Lo Lo Lavina Caravan Stage
(Outside Upper Mall Area Near Athletes Foot Shoe Store)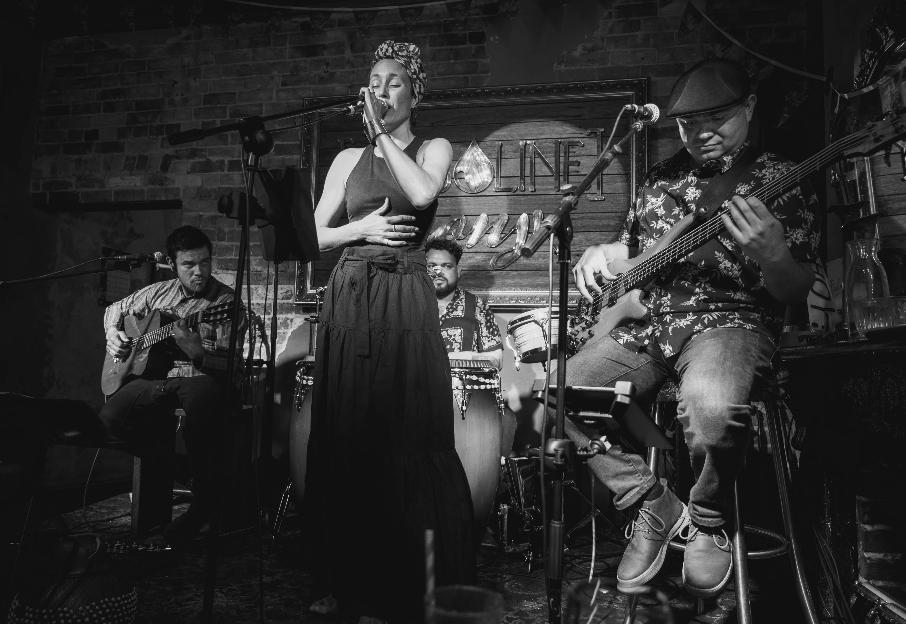 Magdalena Mira Afro Peruvian Quartet - 6pm and 7:30pm
Laneways Live is proudly presented by the Wollongong City Council and supported by the NSW Government through Investments NSW's CBD's Revitalisation Program.
June 6th - Trio Grande 2.0 feat Eric Harland (USA)
+ Vanessa Perica w/ANJO Youth Big Band
6:30pm - UniBar, UOW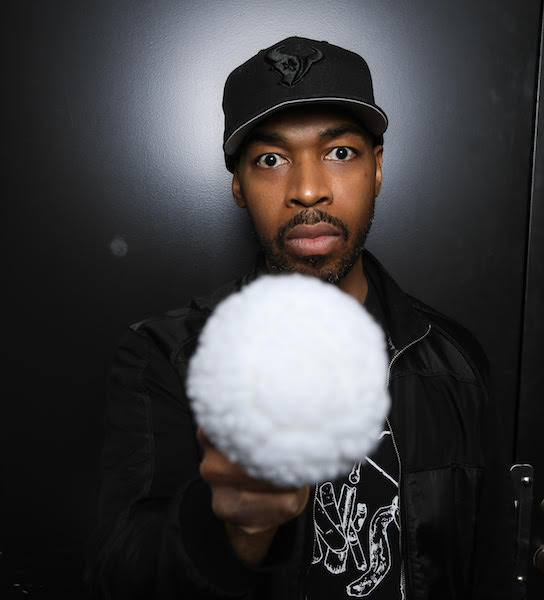 Eric Harland (USA) - drums; Will Vinson (UK) - saxophone; Gilad Hekselman (ISR) - guitar.

Trio Grande is the debut statement from a brand new project that unites three of the most inventive, exciting and accomplished musicians working at the interface of New York's contemporary musical culture, where the city's rich tradition of jazz meets crosscurrents blowing in from across the world.
Vanessa Perica is a Melbourne based composer, arranger, conductor who is rapidly gaining an international reputation as a jazz composer of the highest order. The ANJO Youth Big Band brings together Australia's brightest and youngest jazz stars, aged 18 - 25, from across the nation. Expect an exhilarating concert of powerful writing and memorable melodies and grooves as one of Australia's most dynamic composers meets the best of Australia's young jazz musicians.

$35 General/$30 Concession/$25 Student
March 5th - The Catholics
8pm - The Music Lounge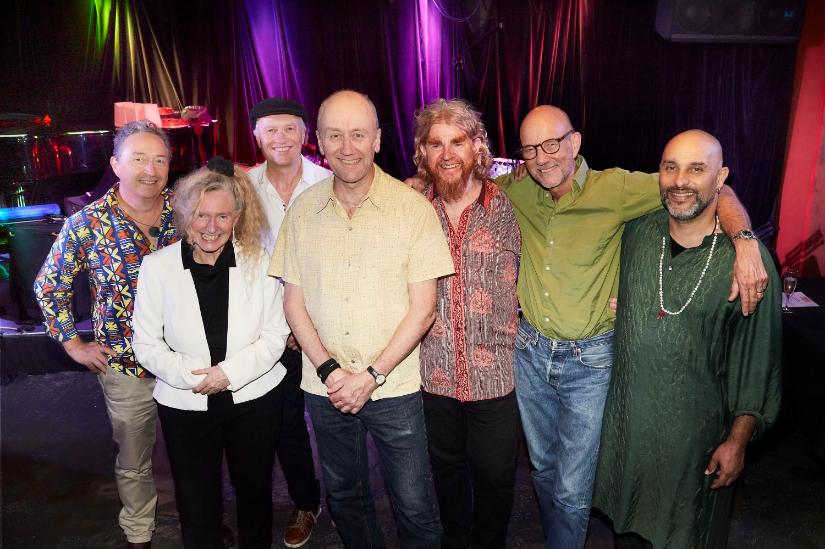 Sandy Evans - tenor sax; James Greening - trombone; Gary Daley - piano/accordion; Jon Pease - guitar; Llyod Swanton - bass; Fabian Hevia - percussion; Hamish Stuart - drums
Formed in 1991, the Catholics are one of Australia's most distinct contemporary ensembles. Over three decades, they have formed a unique body of beautifully crafted music that takes in various African, Caribbean, Latin, and Eastern influences.
$35 Premium/$30 Standard/$15 Student
8pm - The Music Lounge, Wollongong Town Hall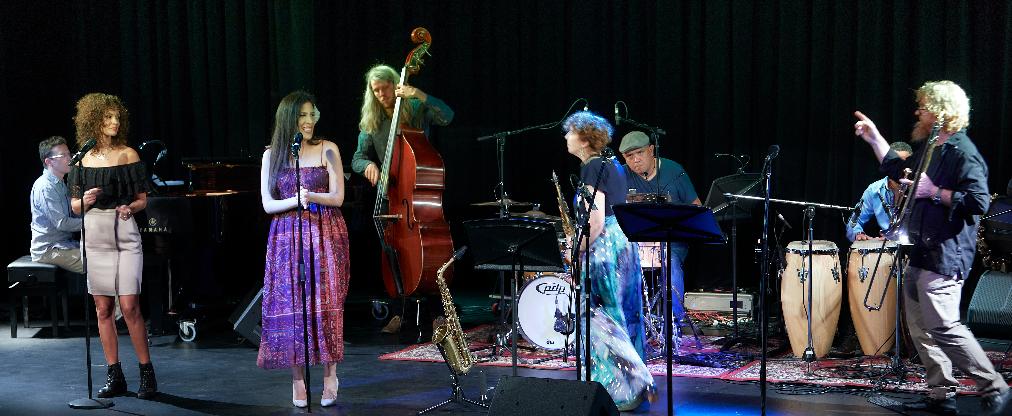 Melody Rivera – vocals; Dai Moret - spoken word; Gai – alto and soprano saxophones; Alex Silver – trombone; Max Alduca – double bass; Daniel Pliner – piano; Giorgio Rojas – drum kit; Juan Carlos Allende – percussion
"The brainchild of saxophonist Gai Bryant, ALLY never quite lets your expectations settle... every note is an event in itself..." - John Shand, SMH
ALLY is global jazz at its most passionate and irresistible, a convergence of riches at every performance, with music drawn from Afro-Peruvian, Cuban and Caribbean traditional rhythms paired with a modern jazz aesthetic.
Other Cool Jazz Gigs around the Gong